May 14, 2021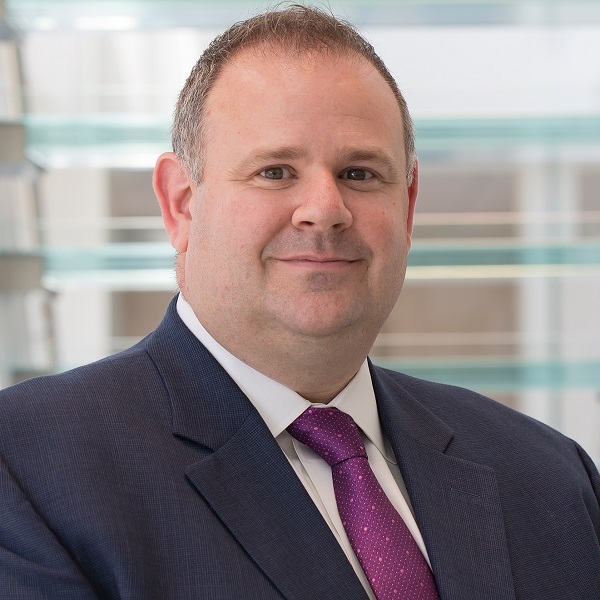 Full Name: Phil McNamara
Former High School: Holy Name Central Catholic High School
Graduation Year: 1993
Organization: U.S. Department of Transportation Job Title: Assistant Secretary for Administration
Briefly describe what you do for work:
I was appointed by President Biden to a senior-level role in his Administration at DOT in January 2021. I oversee human resources, acquisition/procurement, security, facilities, and environmental sustainability for DOT, which includes agencies like the FAA, and the Federal Highway Administration.
Who influenced you the most during your time at Holy Name? Why?
Rev. John F. Madden no doubt. Fr. Madden was the director of campus ministry when I first started at HN in 1989. He later became headmaster. To me, he is the epitome of what a Catholic priest should be. He is centered on building a just society that helps the poor and vulnerable. I remember first hearing his homilies while at Holy Name, and I've been fortunate to hear him preach many times in the years since. The work he did to inspire young people like myself at Holy Name, and the work he is doing now at St. John's Church with the soup kitchen and homeless housing, is truly God's work.
Favorite memory of Holy Name?
Oh, gosh….. looking back on it, I'm still shocked/surprised/horrified that for 4 years I ate lunch out of a vending machine. I had so many great memories from my time on Granite Street, it's hard to pick just one. However, I would say the thing that always stands out to me when I think about my days at Holy Name are the enduring friendships I made. To this day, 28 years after graduating and 23 years of living in Washington, I have friends for life. We all went through the same 4 years together. A crucial 4 years in terms of personal growth and learning. We still text and email just like we were back in high school. While I may not be able to see them in person as much as I like, I know that if needed anything they would be there for me. I'm grateful that Facebook and Instagram give me an opportunity to stay connected to them!
Most important thing you learned at Holy Name?
I think one thing HN did well was impart a sense of "service" on to the students. Service on behalf of those less fortunate and marginalized. Back when I was at HN, it was service opportunities at the Mustard Seed and Camp Sunshine.
Describe Holy Name in three words?
Community. Loving. Service.
What activities or sports were you involved in at Holy Name?
Student Council Government, Yearbook, and the National Honor Society.
What advice would you give current high school students either pursuing a similar career path to your own?
Consider a career in politics and government service. Public service needs motivated, young people. Government and politics doesn't need to be a dirty word. Government can help people. Get involved. Seek out elected officials that inspire you, volunteer on their campaigns, whether at the local, state, or federal levels. Learn how public policy is made. And even if you don't get involved in politics, every one of us has an important civic responsibility: VOTE! Pay attention to elections, learn about the candidates and their policy positions. And VOTE.
What is something people may not know about you?
Ummm….I love to travel. I'm 4 states away from having visited all 50 U.S. states. Still need Alaska, Mississippi, Nebraska, and Oklahoma. Through this pandemic, I have actually found myself missing airports. When the COVID pandemic is crushed and it's safe to travel again, I'm excited to get back in an airplane and go places.
What advice do you have for current Saint Paul students to make the most of their experience at Saint Paul?
It's all going to go by in the blink of an eye, so cherish the moment now. Make those memories. Form those friendships. And if you're stressed about the calculus exam or that English paper relax. In 10 years, no, 5 years, no one is ever going to ask you how you did on that trigonometry exam. Get involved in extracurricular activities. They will teach you as many important life skills as classroom learning.
Anything else you want to share?
I happened to be in Worcester last June for a funeral. I was close to Granite Street, so decided to take a quick drive through the HN campus. I was so surprised as an adult how small the physical footprint of the building felt to me as I drove around. Back when I was in high school and coming into Worcester from Clinton, I just remember being wowed at how large the building and campus were. Obviously, the building didn't get larger or smaller in the last 28 years. The only thing that changed is my perspective.
Have you stayed connected with your former high school?
I've not stayed connected in a traditional sense of being an active alumni or sending children to HN (well I don't have kids, but you know). But I feel a sense of connection through the lasting friendships with my classmates as well as with Fr. Madden who remains a close family friend. So connection by association is my answer!
Recent Posts